What is MeteoGadget
Meteogadget is a gadget to display the current weather from HomeWeather. Displayed data (sensors) are user adjustable in HomeWeather own profile..
Actual version is 2.0.0.4 (released 24.2.2011).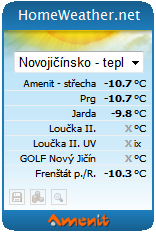 Installation
Installation is standard as all other windows gadgets. Just download the zip file meteo.gadget, extract it anywhere on the disk and then run the file "meteo.gadget".
At that moment will be the normal Windows installation Gadget. First, the information dialog will appear to start the installation: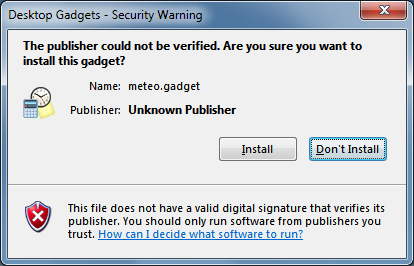 Immediately After pressing the button "Install" on the desktop will appear a new gadgetthat looks like this: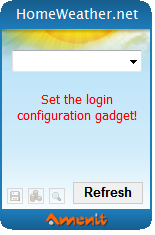 At this moment, the gadget is ready for viewing data, missing only set the logininformation you get on your own profile MeteoWebu.
This is set by the configuration button on the gadget to open the configuration dialog = open the configuration dialog...



... and on the picture below you can see where you must enter your security key for accessto their own views.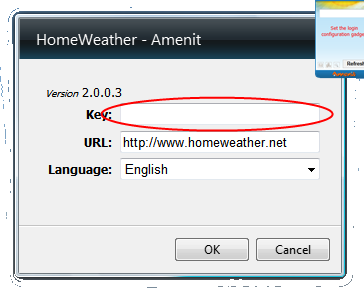 Get
Security
Key
Security Key, click the settings of your profile. If the key is not visible, so just check the "Renew key" and save the profile. Will then be generated your new key that you canpaste into HomeWeather.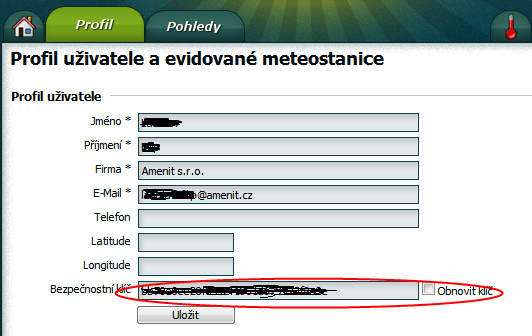 Configuration
Views
For a proper run MeteoGadget must configure their own views on the measured data.To suggest how to do this.